Marcus; or the Secret of Sweet - by Tarell Alvin McCraney
April 14-23, 2023
STUDIO - Hilberry Gateway
Marcus is sixteen and "sweet." Days before Hurricane Katrina strikes the housing projects of Louisiana, the currents of his life converge, overflowing into his close-knit community and launching the search for his identity on a cultural landscape infused with mysterious family creeds. A devastating tempest is brewing in the skies above, and Marcus is haunted by his father's mysterious legacy, his own sexuality, and his dreams of torrential downpours. The provocative, poignant and fiercely humorous coming-of-age story of a young gay man in the South, Marcus; or the Secret of Sweet is the stirring conclusion of The Brother/Sister Plays by Academy Award-winning playwright and screenwriter, Tarell Alvin McCraney (Moonlight).
Contains strong language, mature subject matter, and water-based haze.
---
Performance schedule
8:00 p.m. Friday, April 14
2:00 p.m. Saturday, April 15
8:00 p.m. Saturday, April 15
2:00 p.m. Wednesday, April 19
7:00 p.m. Thursday, April 20
8:00 p.m. Friday, April 21
2:00 p.m. Saturday, April 22
8:00 p.m. Saturday, April 22
3:00 p.m. Sunday, April 23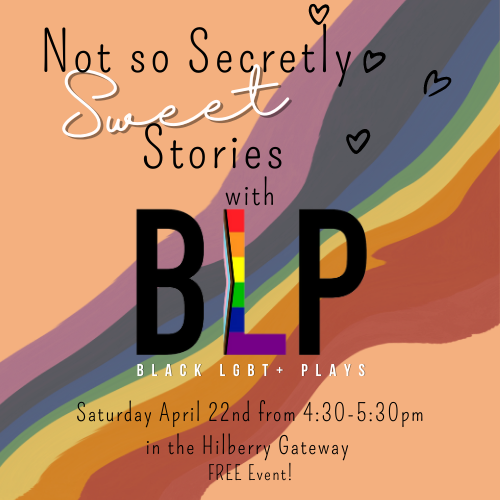 Special Event: "Not So Secretly Sweet Stories" Join us after the Saturday, April 22 matinee performance for an afternoon of storytelling. We are proud to partner with Black LGBT+ Plays, a Detroit-based playwriting organization that amplifies intersectional voices. Black LGBT+ Plays and Theatre and Dance at Wayne folks will share a series of heartwarming  and raw coming-out stories. Come out for a celebration of identity, belonging, and community. Event is free of charge. 
---
Masks are optional but strongly recommended. Visitors no longer need to complete the Wayne State Daily Screener and masks are now optional. Theatre and Dance at Wayne abides by Wayne State Covid protocols to ensure the safest environment for you and our community. Our commitment to your health and safety includes timely updates to University protocols.